FLUX®
Developed in collaboration with David Thulstrup
FLUX® is a brand new type of protected leather that resembles nubuck, with a matt look akin to neoprene. It's an innovative leather that we developed in close collaboration with architect and designer David Thulstrup, featuring a velvety-soft surface with a muted effect that's ultra modern.
The name FLUX® reflects this fusion of concepts: nubuck and neoprene in a protected leather. A hybrid leather that's especially appealing for architects and designers operating on the global arena. In an industry that's in a constant state of flux.
Enjoy the smooth, tactile sensation that nubuck is known for. Its earthy sophistication and subtle, natural texture. The muted matt look of neoprene. In addition to all the advantages of protection, involving a very fine surface coating that's unperceivable to the eye, which renders FLUX® resistant to scuffing and fading.
The colour palette is based on natural, honest colours interspersed with carefully selected vibrant hues. These tones are particularly suitable for architectural interiors. Like an ensemble, each hue has a strong identity but the colours work harmoniously together, creating a contemporary yet timeless look.
FLUX® is more than a fresh take on exclusivity. It's a truly enticing leather that compels you to come closer. Inspiring new types of design concepts, interiors and opportunities for lush tactile experiences that last.
David Thulstrup is an award-winning architect and designer whose refined and holistic approach to architecture, interiors and product design combines his Scandinavian heritage with modern design language. Describing his style as 'modern simplicity', the founder and creative director of Studio David Thulstrup has completed an international portfolio of residences, restaurants, retail, hotels, furniture and lighting. Thulstrup's practice is grounded upon honesty and humanism with an emphasis on using diverse materials thoughtfully. By taking a holistic approach Thulstrup creates spaces where people feel comfortable. Thulstrup holds a Masters in Interior Architecture and is an Architect MAA. In his Copenhagen-based studio he works with a multi-disciplinary team.
Minimum order 1 hide
Dispatch Within 24 hours
Type Protected leather
Thickness 1.1 – 1.3 mm
Size 4.0 – 5.0 m2
Origin Finest European rawhide from cattle grazed on the Alpine meadows spanning Switzerland, Germany, Austria, Liechtenstein and Italy
Tannage Chrome
Dye Water-based aniline dye
Particular attributes A velvety-soft protected leather that resembles nubuck with a modern, matt look akin to neoprene.
Creative application Fusing furniture with interior design, architecture and more, FLUX® is a velvety-soft protected leather that resembles nubuck with a matt look similar to neoprene, it's especially appealing for all kinds of public venues or spaces with heavy traffic, adding an upscale look with an edge to all kinds of product designs, surfaces and the décor, as well as furniture. Ideal for modern settings, such as expansive retail spaces, showrooms, galleries, restaurants, hotels, lobbies, lounges and private homes.
Download Technical Details
3D Download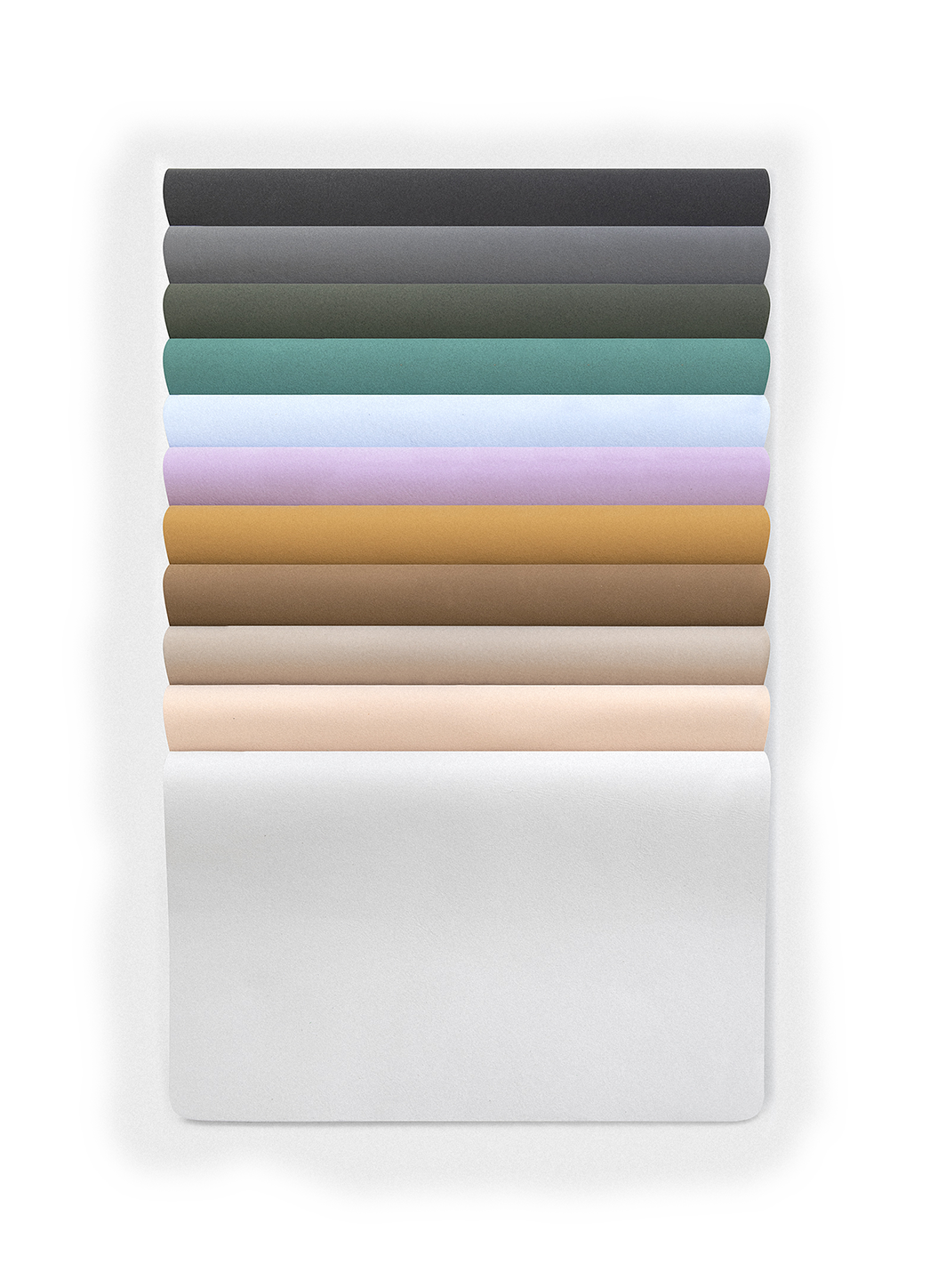 Sørensen Leather – David Thulstrup delves into the details about colour, as the co-creator of our FLUX® collection. Video by Monica Steffensen.
Colours