CLASSIC
CLASSIC is a Protected leather that exudes elegance. What's amazing is that it stays beautiful for years on end, for generation after generation. Firm and robust, with a strong protective finish, CLASSIC is designed for endurance and hardly shows signs of aging.
The surface is slightly buffed and printed, resulting in a consistent, uniform look.
CLASSIC is ideal for real life settings. Thanks to the protective surface, kids can easily drink, eat, play and sleep on furniture crafted with CLASSIC, without being concerned about water marks or stains. Liquids simply wipe off.
In fact, CLASSIC was originally developed for Fritz Hansen as their preferred choice for classic versions of Arne Jacobsen's Egg™ chair and Swan™ chair, among many others.
As a strong leather, together with its protective finish, CLASSIC is the type of leather that keeps its good look for literally lifetimes.
Our CLASSIC collection has received the LEATHER STANDARD by OEKO-TEX® certification. A scientifically-founded, worldwide testing and certification system for leather. Based on international test standards and other recognised test processes, the certification involves around 100 test parameters. Including numerous environmentally-relevant substances and chemicals harmful to the health. The more intensively an article comes into contact with the skin, the stricter the human-ecological requirements that it must fulfil.
Inspiration: Project featuring CLASSIC:
– The National Art Center, Tokyo
Minimum order 1 hide
Dispatch Within 24 hours
Type Protected leather
Thickness 1.4 – 1.6 mm
Size 5.0 – 6.0 m2
Origin European rawhide, typically from Italy, Germany, Austria, Switzerland and Scandinavia
Surface Matt, firm and strong. A tough grain with a uniform expression
Finish Surface protection
Tannage Chrome
Dye Water-based aniline dye
Particular attributes A very strong and firm leather. Water repellent, dirt repellent, stain resistant, smudge resistant, durable, easy upkeep.
Certification OEKO-TEX®
Care & cleaning
As a natural material, leather requires looking after. If you care for the leather in the right way, it will become even more beautiful over time. Here are a few tips:
Our leather is ready for you to use as soon as it arrives, so there is no initial need to treat it or clean it. Over time if you see the need for cleaning, use a vacuum cleaner once or twice a month with a soft brush to remove any dust. Once or twice a year for thorough cleaning, use the foam from soap flakes stirred in warm water. Apply the foam with a dry soft cloth, minimising any contact with water
The care and maintenance of leather will always depend on the specific way in which it is used, the conditions of use and how often it is used.
Custom Special colours available with a minimum order. Just ask us
Download Technical Details
3D Download
Buy in webshop
View cases
OEKO-TEX® certificate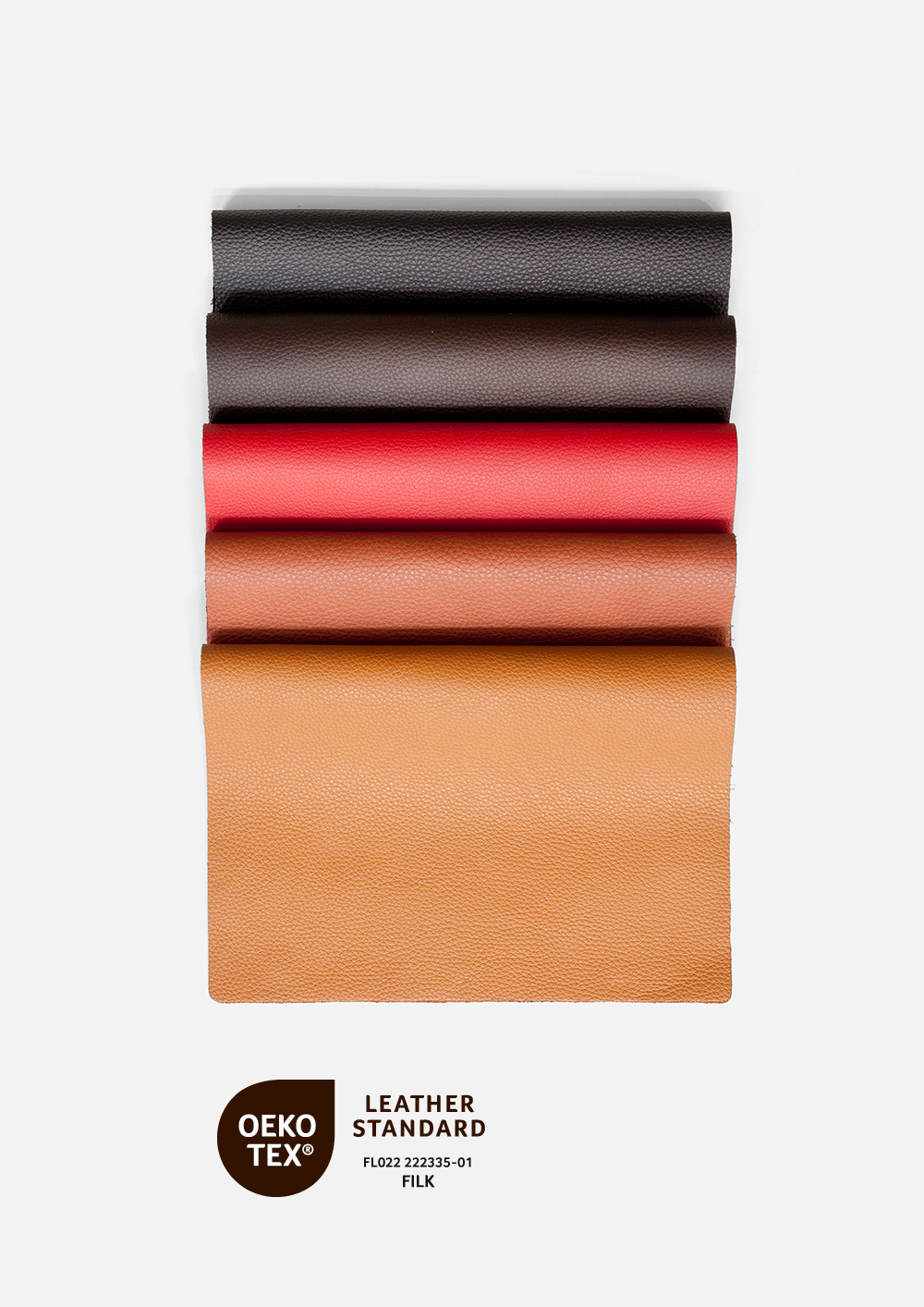 Colours