ULTRA CRIB5
ULTRA CRIB5 is a versatile Protected leather in a select variety of colours designed to meet specific requirements concerning flammability. It's been fire-tested to fulfil stringent requirements that include Crib5 – the British Standards within flammability.
It has a uniform grain structure spanning over the entire hide, giving ULTRA CRIB5 a consistent look. Buffed and embossed, and truly nice to touch.
ULTRA CRIB5 is water repellent, stain resistant and easy to maintain, due to its extremely strong protective finish. As a result, it will take longer to show signs of aging or fading due to wear and tear or exposure to light.
Our ULTRA CRIB5 collection has passed a special testing of TVOC (Total Volatile Organic Compounds). Called ANSI/BIFMA M7.1-2011 (R2016), it measures emissions and other factors as to their effect on air quality. A TVOC certificate guarantees that no harmful emissions are released into the environment, thus contributing to a healthy indoor atmosphere.
Projects featuring ULTRA CRIB5:
– Sticks'n'Sushi – Westfield, London
Download the ANSI/BIFMA certificate
Minimum order 1 hide
Dispatch Within 24 hours
Type Protected leather
Thickness 0.9 – 1.1 mm
Size 3.5 – 4.5 m2
Origin Non-EU
Surface Very strong and durable with a uniform, matt surface print
Finish Extremely strong surface protection
Tannage Chrome
Dye Water-based aniline dye
Particular attributes Crib5 tested – the British Standards within flammability. ANSI/BIFMA certified. A very strong, durable leather able to withstand wear and tear. Shows little signs of aging or the effects of exposure to light. Water repellent, dirt repellent, stain resistant, smudge-proof, easy upkeep. TVOC tested.
Care & cleaning
As a natural material, leather requires looking after. If you care for the leather in the right way, it will become even more beautiful over time. Here are a few tips: Our leather is ready for you to use as soon as it arrives, so there is no initial need to treat it or clean it. Over time if you see the need for cleaning, use a vacuum cleaner once or twice a month with a soft brush to remove any dust. Once or twice a year for thorough cleaning, use the foam from soap flakes stirred in warm water. Apply the foam with a dry soft cloth, minimizing any contact with water. Avoid bar soap, saddle soap, leather cleaners, household detergents or chemical products. Protect from direct sunlight, excessive heat and sharp objects
The care and maintenance of leather will always depend on the specific way in which it is used, the conditions of use and how often it is used.
Custom Special colours available with a minimum order. Just ask us
Download Technical Details
3D Download
Buy in webshop
View cases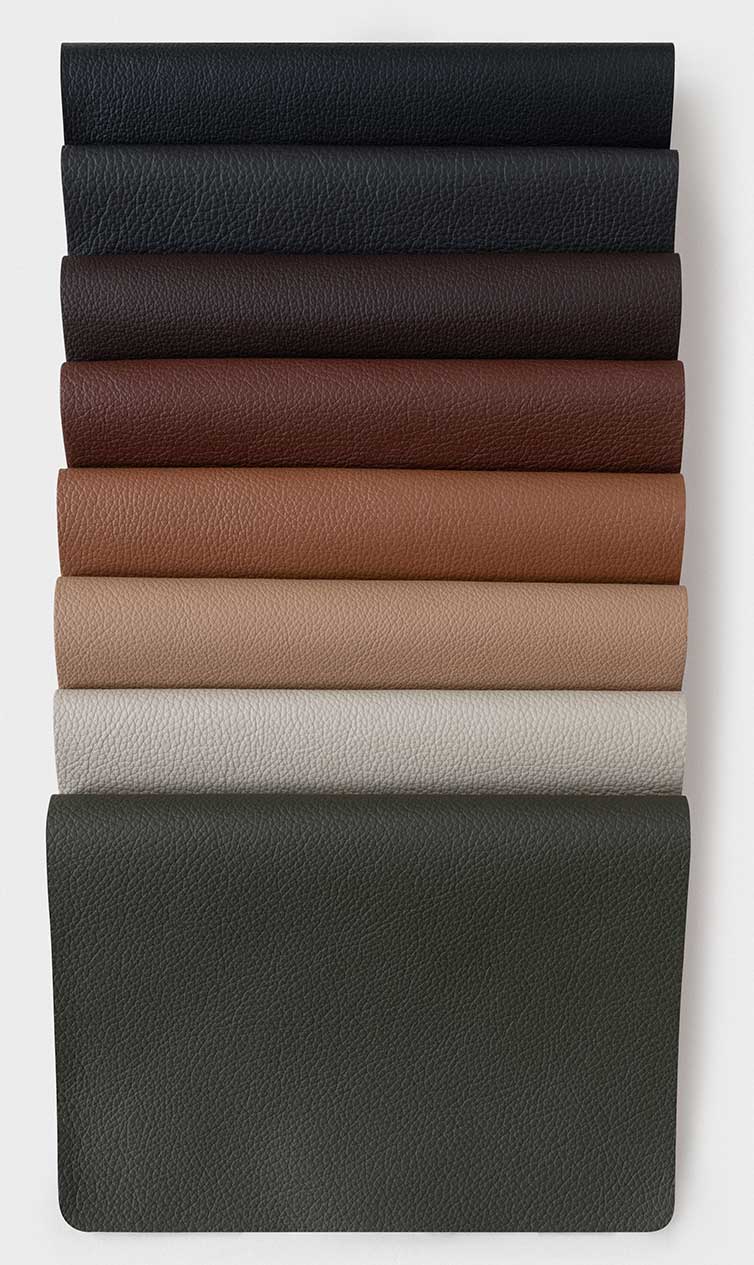 Colours