NOIR+
NOIR+ is a versatile leather boasting a smooth surface texture and a matt look with a subtle shine. As a Semi-aniline, full-grain leather, the natural markings are visible, adding authenticity and originality.
A special light finish helps protect NOIR+ from dirt, the effects of light and the harmful rays of the sun, which makes it even easier to work with on a wide range of projects.
Because it's soft, flexible and comfortable, NOIR+ is a natural choice for virtually any project. A versatile leather people count on to always look good.
NOIR+ is now certified with the Blue Angel Ecolabel (Der Blaue Engel).
Minimum order 1 hide
Dispatch Within 24 hours
Type Semi-aniline leather
Thickness 1.0 – 1.2 mm
Size 5.0 – 6.0 m2
Origin European rawhide, typically from Italy, Germany, Austria, Switzerland and Scandinavia
Surface Matt, soft with a slight texture
Finish Light surface protection
Tannage Chrome
Dye Water-based aniline dye
Certification Blue Angel
Care & cleaning
As a natural material, leather requires looking after. If you care for the leather in the right way, it will become even more beautiful over time. Here are a few tips:
Our leather is ready for you to use as soon as it arrives, so there is no initial need to treat it or clean it. Over time if you see the need for cleaning, use a vacuum cleaner once or twice a month with a soft brush to remove any dust. Once or twice a year for thorough cleaning, use the foam from soap flakes stirred in warm water. Apply the foam with a dry soft cloth, minimising any contact with water. Avoid bar soap, saddle soap, leather cleaners, household detergents or chemical products. Protect from direct sunlight, excessive heat and sharp objects
The care and maintenance of leather will always depend on the specific way in which it is used, the conditions of use and how often it is used.
Custom Special colours available with a minimum order. Just ask us
Download Technical Details
3D Download
View cases
The Blue Angel certificate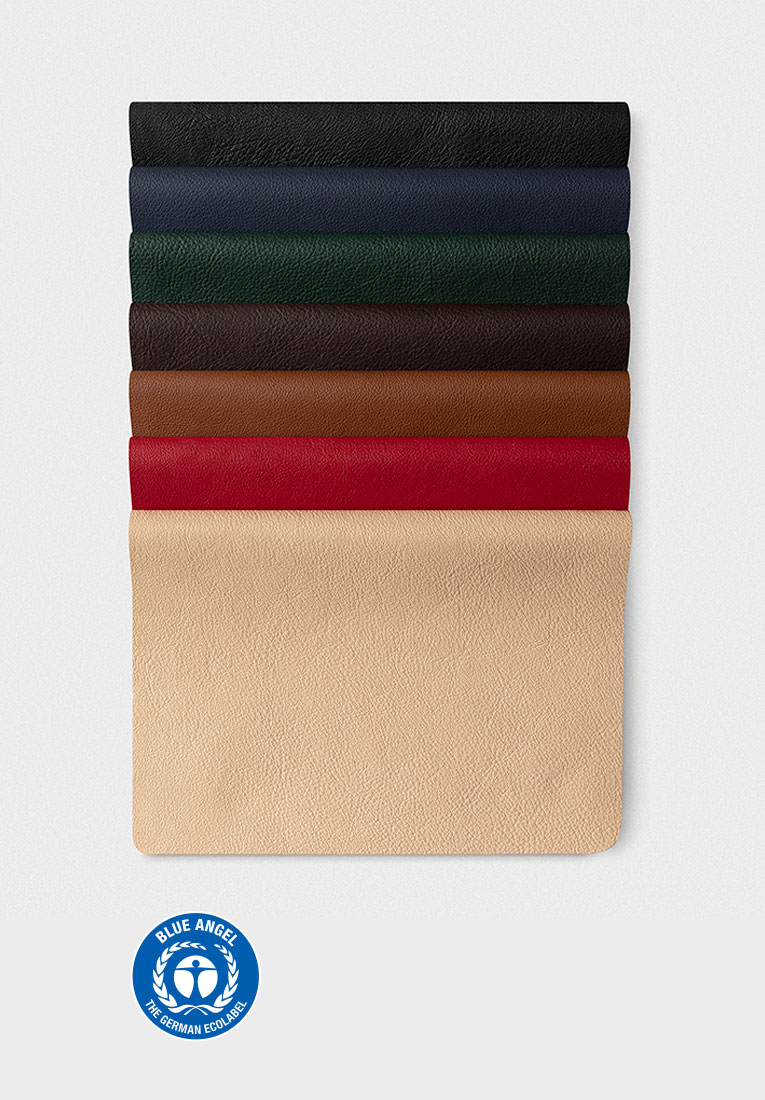 Colours