NUANCE
Developed in collaboration with Space Copenhagen
NUANCE has a remarkable depth and dimension that exudes authenticity, with the added advantage that it's designed to be durable. It's a brand new type of protected leather we developed in close collaboration with Space Copenhagen, where the nuances are seen in the natural texture as well as the tones. Featuring neutrals derived from a grey scale and rich, earthy essentials.
Run your fingers along the surface of NUANCE and you can feel the realness and richness of a leather that's lush to the touch. You can see the innate beauty of each hide, with all its natural patterns and imperfections. And you can relax knowing that a very light invisible coating keeps the subtleties and softness intact while protecting the leather from wear and tear. The result is a tactile sensation of a surface designed to be alluring and enduring.
Enjoy an array of evocative colours. Comprised of shades derived from gradients of grey and an array of deeper, earthy tones. Together they complement each other and create an uncanny sense of continuity. Watch the colours take on more character as a subtle patina emerges over time.
Indulge in the sensory experience of a luscious, durable leather rich with detail and depth.
Our NUANCE collection  has passed a special testing of TVOC (Total Volatile Organic Compounds), which measures emissions and other factors as to their effect on air quality. A TVOC certificate guarantees that no harmful emissions are released into the environment, thus contributing to a healthy indoor atmosphere.
Space Copenhagen is an architecture and design studio founded by Signe Bindslev Henriksen and Peter Bundgaard Rützou. A design duo whose focus extends from furniture, objects and interiors to artistic installations. Space has a deep desire for people to intuitively engage with their surroundings, reflected in their sculptural concepts, elegant angle on atmosphere and profound passion for natural materials like leather. Imbued with a texture, tonality and intrinsic beauty that add to the ambience.
Minimum order 1 hide
Dispatch Within 24 hours
Type Protected leather
Thickness 1.2 – 1.4 mm
Size 4.0-5.0 m2
Origin Non European
Surface Visible natural markings and two-tone texture
Finish Surface protection
Tannage Chrome
Dye Water-based aniline dye
Particular attributes Water repellent, dirt repellent, stain resistant, durable, easy upkeep. A leather with depth, dimension and detail, where you can see and feel the natural surface patterns unique to each hide. With the extra advantage of an invisible protective surface that makes it more durable. In a range of neutral hues derived from gradients of grey and deeper, earthy tones. Each with a nuanced, almost duo-toned effect
Creative applications NUANCE adds an unspoken air of elegance to any design or interior. A natural choice for hotels, restaurants, lounges or bars, as well as spas or wellness retreats. It's ideal for an art museum, gallery, exhibition space or private residence. Not to mention an airport, retail or other commercial venue, including corporate settings, such as a company headquarters
Care & cleaning
As a natural material, leather requires looking after. If you care for the leather in the right way, it will become even more beautiful over time. Here are a few tips:
Our leather is ready for you to use as soon as it arrives, so there is no initial need to treat it or clean it. Over time if you see the need for cleaning, use a vacuum cleaner once or twice a month with a soft brush to remove any dust. Once or twice a year for thorough cleaning, use the foam from soap flakes stirred in warm water. Apply the foam with a dry soft cloth, minimising any contact with water. Avoid bar soap, saddle soap, leather cleaners, household detergents or chemical products. Protect from direct sunlight, excessive heat and sharp objects
The care and maintenance of leather will always depend on the specific way in which it is used, the conditions of use and how often it is used.
Custom Special colours available with a minimum order. Just ask us
Download Technical Details
3D Download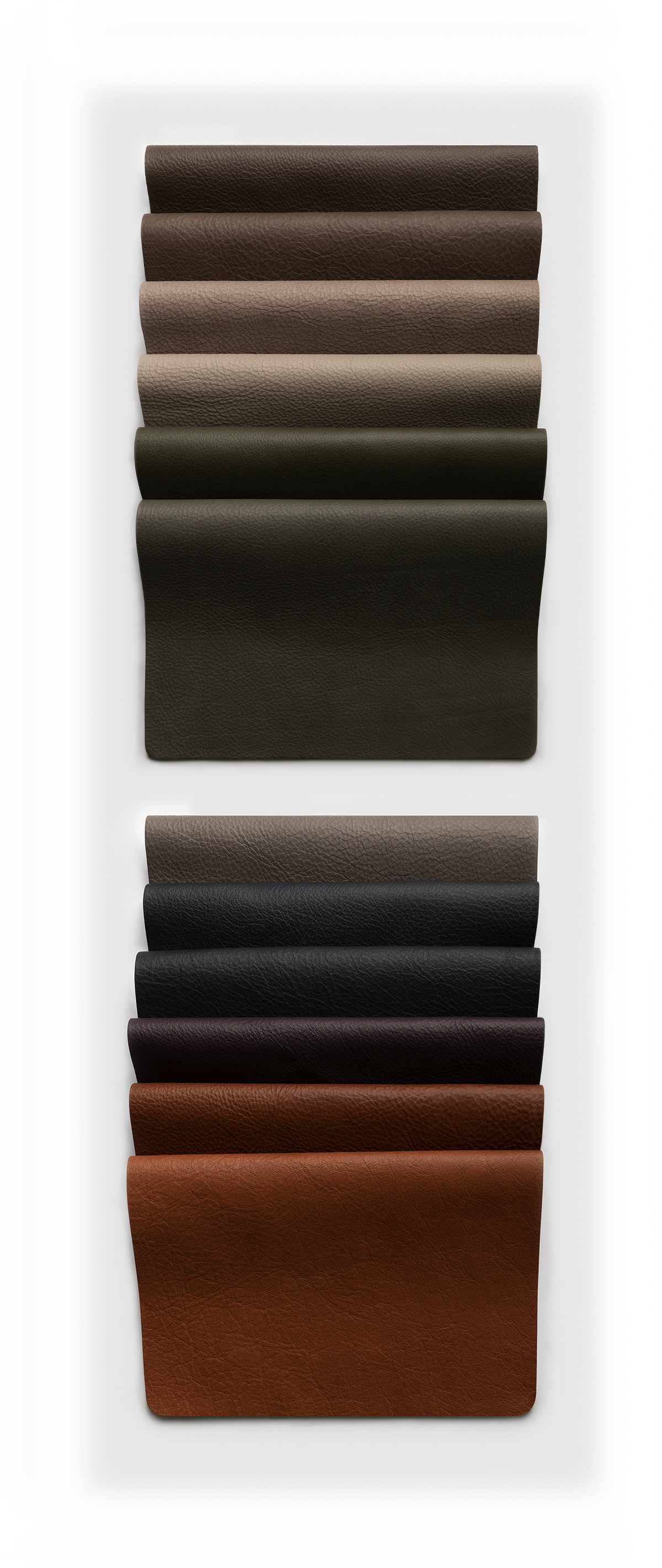 Sørensen Leather – SPACE Copenhagen talk about leather's compelling appeal, as co-creators of our NUANCE collection. Video by Monica Steffensen.
Colours