SPECTRUM
Colours curated by Note Design Studio
SPECTRUM is a soft Semi-aniline leather with a subtle texture that looks uniform, thanks to a light surface finish that helps protect the leather from dirt, stains and fading resulting from exposure to light.
As a natural, full-grain leather, the visible pores on the smooth surface add a unique, authentic character to a matt leather with a subtle shine.
With over 85 colour variations, it's rare to find a leather with as many subtle tonalities as SPECTRUM. Including more tones and variations that allow for easy pairing with stronger, more vibrant colours. Given so many colours to choose from, there's no reason to compromise on creativity.
Stockholm-based Note Design Studio create inventive concepts for contemporary living within architecture, interiors, product design and strategies. For SPECTRUM, we turned to Note to develop a new expression of natural colours. Drawing on their insights into colour, they grouped tonalities together according to warm and cold hues, adding subtle gradations of shades in between that can easily partner with more vivid hues. Resulting in a nuanced, harmonious palette that spans the entire colour spectrum.
Our SPECTRUM collection has received the LEATHER STANDARD by OEKO-TEX® certification. A scientifically-founded, worldwide testing and certification system for leather. Based on international test standards and other recognised test processes, the certification involves around 100 test parameters. Including numerous environmentally-relevant substances and chemicals harmful to the health. The more intensively an article comes into contact with the skin, the stricter the human-ecological requirements that it must fulfil.
SPECTRUM is now certified with the German Blue Angel Ecolabel (Der Blaue Engel).
Inspiration: Projects featuring SPECTRUM
Visit our case section and explore different projects featuring SPECTRUM:
– The Bolder in Norway
– Giardino Restaurant & Bar in Bern
– Bistro Le Bleu in Aarhus
– Sticks 'n' sushi – Istedgade in Copenhagen
– Palace Restaurant in Helsinki
– The Standard in Copenhagen
– Haven Showroom at Hotel Amerikalinjen in Oslo
Minimum order 1 hide
Dispatch Within 10 – 14 days
Type Semi-Aniline leather
Thickness 1.0 – 1.2 mm
Size 5.0 – 6.0 m2
Origin European rawhide, typically from Italy, Germany, Austria, Switzerland and Scandinavia
Surface Matt, smooth surface with a very subtle texture
Finish Light surface protection
Tannage Chrome
Dye Water-based aniline dye
Particular attributes Over 87 colour variations to choose from. Soft with visible pores that add character. Certified with OEKO-TEX® and The Blue Angel Ecolabel.
Care & cleaning
As a natural material, leather requires looking after. If you care for the leather in the right way, it will become even more beautiful over time. Here are a few tips:
Our leather is ready for you to use as soon as it arrives, so there is no initial need to treat it or clean it. Over time if you see the need for cleaning, use a vacuum cleaner once or twice a month with a soft brush to remove any dust. Once or twice a year for thorough cleaning, use the foam from soap flakes stirred in warm water. Apply the foam with a dry soft cloth, minimizing any contact with water. Avoid bar soap, saddle soap, leather cleaners, household detergents or chemical products. Protect from direct sunlight, excessive heat and sharp objects
The care and maintenance of leather will always depend on the specific way in which it is used, the conditions of use and how often it is used.
Custom Special colours available with a minimum order. Just ask us.
Download Technical Details
3D Download
Buy in webshop
View cases
OEKO-TEX® certificate
The Blue Angel certificate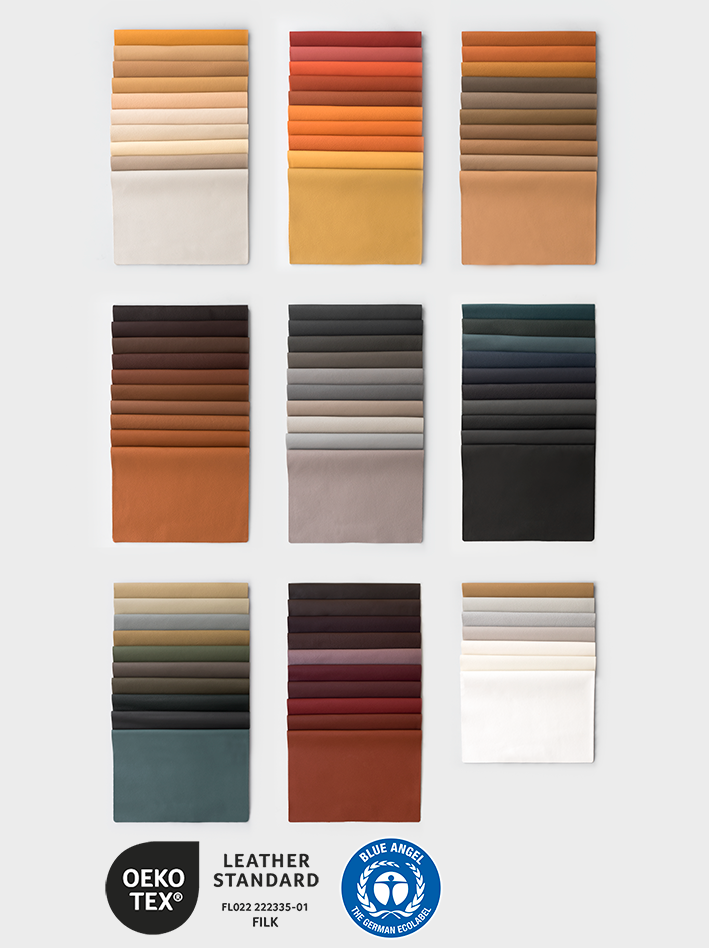 Sørensen Leather – Note Design Studio elaborate, on the authentic aspect of leather, as co-creators of our Colour Box and curators of our SPECTRUM collection. Video by Monica Steffensen.
Colours