DESERT
For a down-to-earth experience that evokes images of a stunning, nomadic landscape, DESERT brings you all that and more.
DESERT is an Aniline leather with character, boasting an earthy, understated elegance. It has a natural surface that feels smooth, with subtle textural details that are a pleasure to touch. The look is almost stonewashed in this Nubuck leather with a dusty, rustic, vintage appeal. A special process involving waxing and hand sanding gives each hide a distinctive, almost wild look.
Each hide is truly unique, able to bring a realness and richness to any design. Over time, a terrific patina will emerge with exposure to light and use.
DESERT has an inviting array of natural colours. From various shades of beige, brown and grey culminating in black inspired by a sultry desert landscape.
Inspiration: Projects featuring DESERT:
– Private hunting lodge, Denmark
Minimum order 1 hide
Dispatch Within 10-14 days
Type Aniline leather
Thickness 1.3 – 1.5 mm
Size 4.5 – 5.5 m2
Origin European rawhide, typically from Italy, Germany, Austria Switzerland and Scandinavia
Surface Natural, subtle nubuck texture with a light pull-up, rustic effect
Finish None
Tannage Chrome
Dye Water-based aniline dye
Particular attributes A dusty, vintage, almost stonewashed look. Colours have a two-toned effect. A lovely natural patina will appear over time, depending on exposure to light and conditions of use.
Care & cleaning
As a natural material, leather requires looking after. If you care for the leather in the right way, it will become even more beautiful over time. Here are a few tips: Only vacuum clean with a soft brush. Never use soap or water otherwise the velvety look and feel will disappear. Do not apply leather grease or soak the leather. Avoid any chemical products, such as saddle soap, other leather cleaners or household products. Protect from direct sunlight, excessive heat and sharp objects
The care and maintenance of leather will always depend on the specific way in which it is used, the conditions of use and how often it is used.
Custom Special colours available with a minimum order. Just ask us
Download Technical Details
3D Download
Buy in webshop
View cases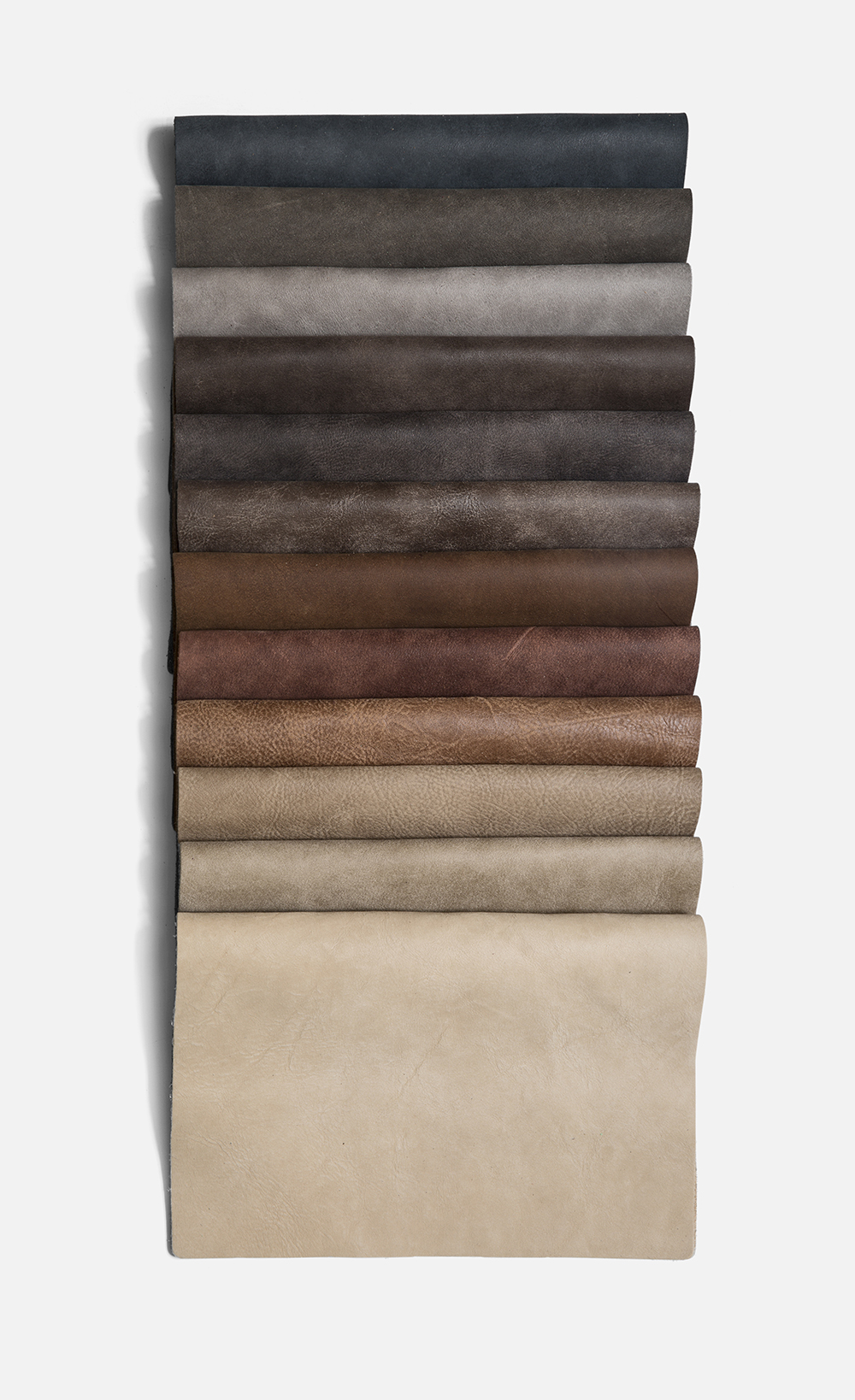 Colours