ROYAL NUBUCK
At first glance, it's clear that ROYAL NUBUCK is a truly high-end Aniline leather. The sanded surface gives it that silky, smooth nubuck feel that exudes exclusivity. Adding a tactile dimension is its subtle texture and a velvety-like touch.
With this collection, we introduce an extensive array of natural colours, which vary depending on the hide. They span a spectrum of rich earthy hues, featuring a subtle gradation of shades from dark to medium to light. All with a discrete natural grain that's unique to each hide.
ROYAL NUBUCK has a matt surface. Over time, the leather will become smoother, shinier and the colours will become lighter. It's all part of the beauty of living with real leather. That you leave your own personal mark on it.
Inspiration: Projects featuring ROYAL NUBUCK
– Sølvsten Arkitektur, Aarhus
– Cabrils Hillside Home, Spain
– Dulong Flagship Store, Copenhagen
– MS Yachtbau Y9

Minimum order 1 hide
Dispatch 10 – 14 days
Type Aniline
Thickness 1.4 – 1.6 mm
Size 5.0 – 5.5 m2
Origin European rawhide, typically from Italy, Germany, Austria, Switzerland and Scandinavia
Surface Smooth, velvety grain structure
Finish Natural with a water repellent surface protection which instantly prevents water or other liquids from penetrating the leather upon contact. It also makes the leather more stain resistant.
Tannage Chrome
Dye Water-based aniline dye
Particular attributes A high-end nubuck leather. Velvety-soft with a subtle surface texture. A lovely natural patina will appear over time, depending on exposure to light and conditions of use.
Care & cleaning
As a natural material, leather requires looking after. If you care for the leather in the right way, it will become even more beautiful over time. Here are a few tips:
Only vacuum clean with a soft brush. Never use soap or water otherwise the velvety look and feel will disappear. Do not apply leather grease or soak the leather. Avoid any chemical products, such as saddle soap, leather cleaners or household products. Protect from direct sunlight, excessive heat and sharp objects
The care and maintenance of leather will always depend on the specific way in which it is used, the conditions of use and how often it is used.
Custom Special colours available with a minimum order. Just ask us
Download Technical Details
3D Download
Buy in webshop
View cases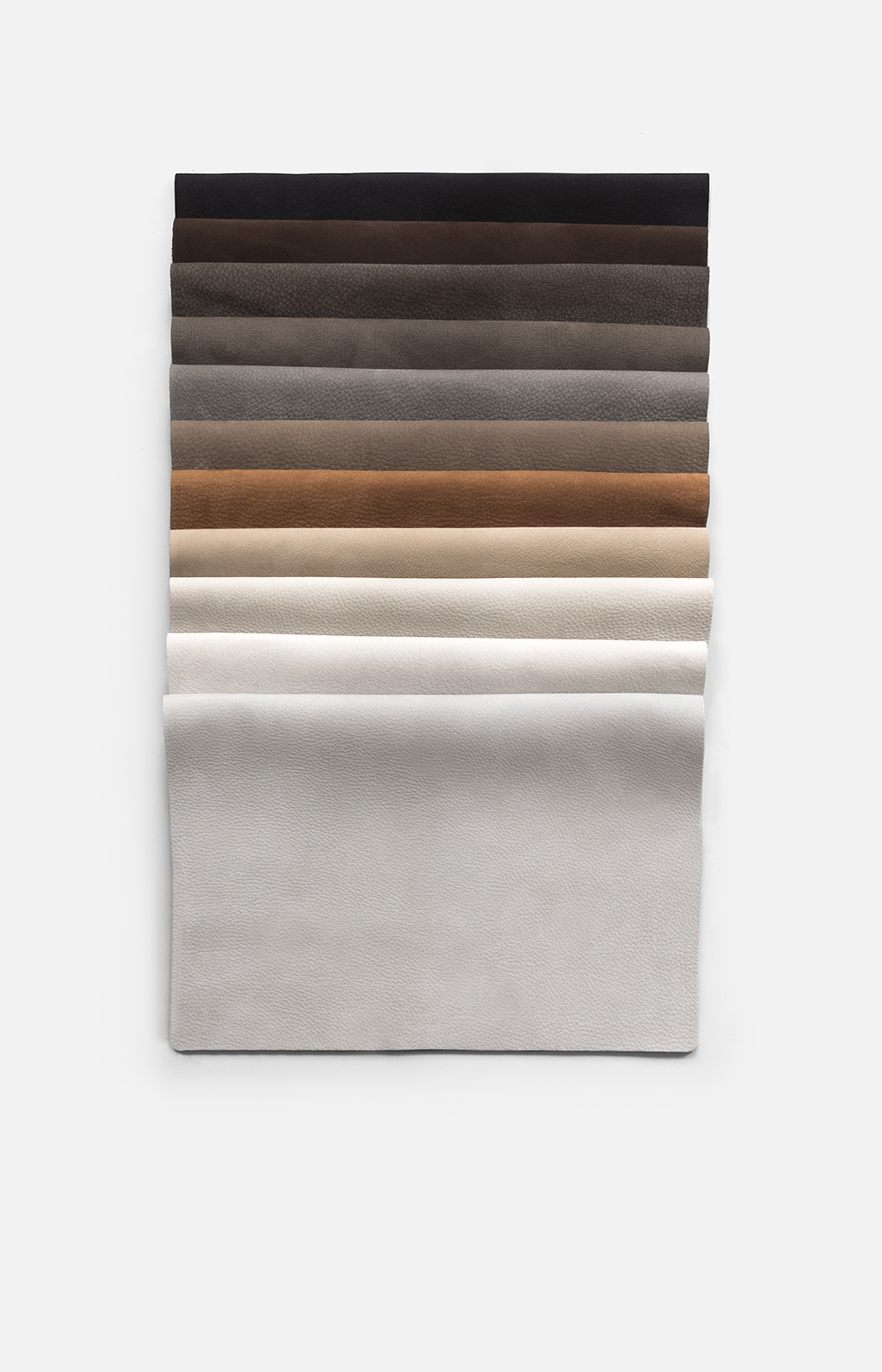 Colours