SHADE
Developed in collaboration with Norm Architects
Our SHADE collection is a Protected Aniline leather developed in collaboration with Norm Architects. Featuring natural nuances and subtleties in the surface, which has a light layer of protection that's imperceptible to the eye.
The visible natural markings are unique to each hide. Add to that a curated selection of hues with almost a duo-toned effect, including gradations of grey, earthy browns, sultry blacks and nuances in between. Colours that become even more fascinating with a lovely patina that will emerge over time and with exposure to light.
SHADE is a soft leather created to reflect the quiet, innate beauty of muted, earthy tones, ideal for partnering with other natural materials used in architecture and interior design, such as wood, stones, metals and tiles.
Norm Architects is a multi-disciplinary design firm working with architecture, interiors, design and creative direction. Guided by the body and mind vs. trends or technology, their creative credo is all about exploring the essence of an idea in order to find a balance, where there's nothing to add or subtract. Drawing on Scandinavian simplicity, minimalism and Modernism, they create timeless designs with intrinsic appeal, depth and dimension in their quest to re-define the new Nordic norm.
Inspiration: Projects featuring SHADE:
– Oslo Stock Exchange, Norway
– Restaurant Nærvær, Copenhagen 
– Restaurant INUA, Tokyo
– The Azabu Residence, Tokyo 
– Vipp Chimney House, Copenhagen
Dispatch Within 24 hours
Type Protected Aniline leather
Thickness 1.1 – 1.3 mm
Size 4.0 – 5.0 m2
Origin European rawhide, typically from Italy, Germany, Austria, Switzerland and Scandinavia
Surface Natural markings are part of the appeal
Finish Elegant matt with a soft, silky, velvety feel
Tannage Chrome
Dye Water-based aniline dye
Particular attributes A versatile leather that's soft, smooth, with a slight sheen. Muted colours with almost a two-toned effect. A lovely natural patina will appear over time, depending on exposure to light and conditions of use.
Care & cleaning
As a natural material, leather requires looking after. If you care for the leather in the right way, it will become even more beautiful over time. Here are a few tips:
Our leather is ready for you to use as soon as it arrives, so there is no initial need to treat it or clean it. Over time if you see the need for cleaning, use a vacuum cleaner once or twice a month with a soft brush to remove any dust. Once or twice a year for thorough cleaning, use the foam from soap flakes stirred in warm water. Apply the foam with a dry soft cloth, minimising any contact with water. Avoid bar soap, saddle soap, leather cleaners, household detergents or chemical products. Protect from direct sunlight, excessive heat and sharp objects
The care and maintenance of leather will always depend on the specific way in which it is used, the conditions of use and how often it is used.
Custom Special colours available with a minimum order. Just ask us
Download Technical Details
3D Download
Buy in webshop
View cases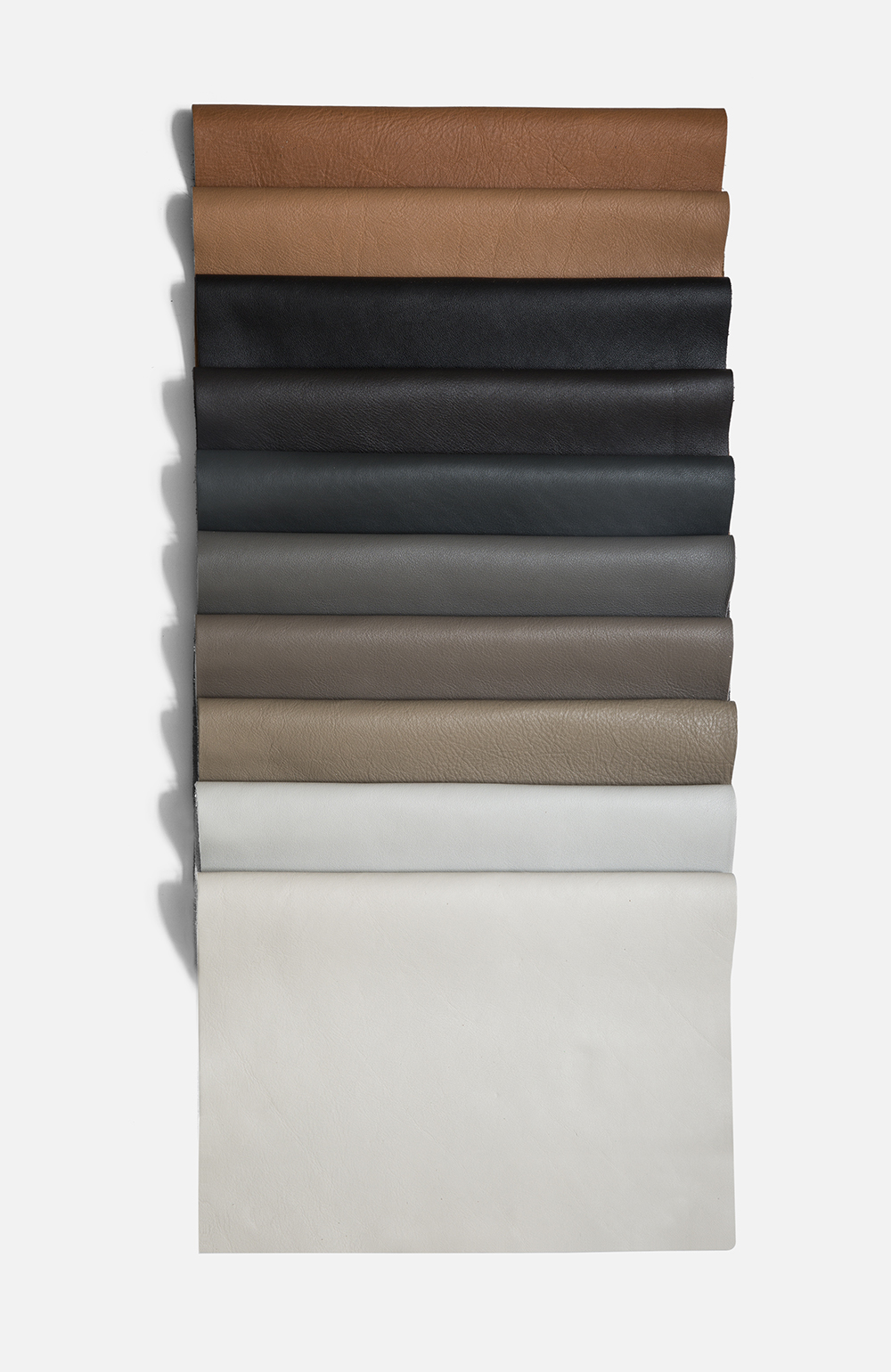 Sørensen Leather / Norm Architects share how leather intuitively reconnects us with nature, as co-creators of our SHADE collection. Video by Monica Steffensen.
Colours